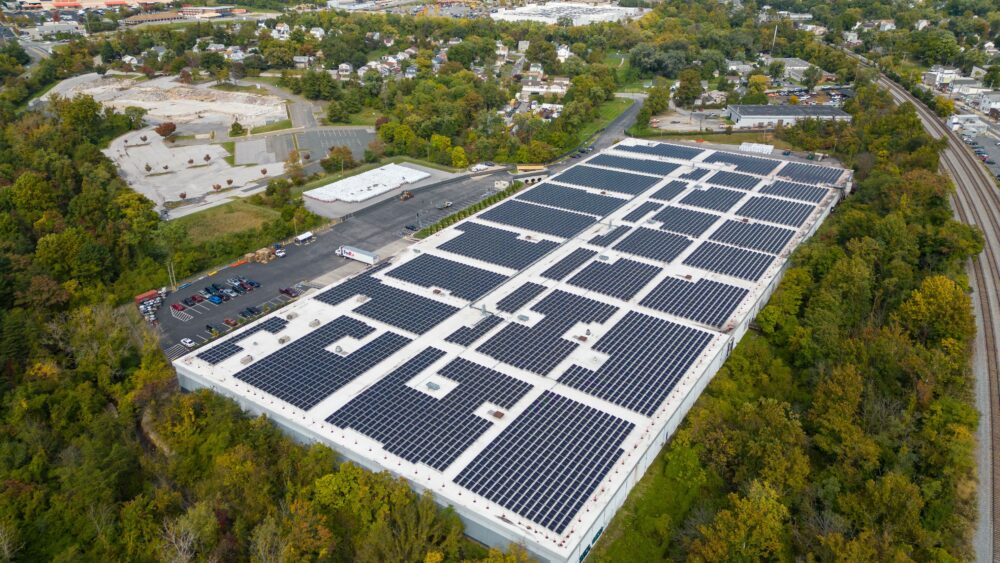 Passage of HB 908 gives policy certainty to community solar developers, promises to advance state's equity, clean energy, and economic development goals
(Annapolis, MD) — Maryland State Delegate Luke Clippinger (D-Baltimore City) today announced the passage of HB 908 which, once signed into law by Governor Wes Moore, will expand access to clean, reliable, and affordable solar power for all Marylanders. The bill, cross-filed with SB 613 led by State Senator Ben Brooks (D-Baltimore County), will achieve this by replacing Maryland's legacy community solar "pilot" program with a permanent, less restrictive, and more equitable community solar program for the Old Line State.
"Since passing the pilot program's enabling legislation in 2015, community solar in Maryland  has proven fruitful," said Delegate Clippinger, primary co-sponsor of HB 908 as well as the 2015 legislation (HB 1087). "By the time the program expires at the end of 2023, it will have brought enough solar capacity to support some 90,000 Maryland consumers. And with the passage of this legislation, we're one step closer to achieving the state's clean electricity goals in a way that ensures the financial and economic benefits of community solar reach the communities where they'll matter most."
Community solar projects are mid-scale solar power generating facilities typically sited on private land, commercial rooftops, landfills, industrial sites and other preferred areas in proximity to the utility customers they're intended to serve, inclusive of those who rent their homes. Under Maryland's legacy community solar pilot program, Marylanders are afforded the choice to enroll as "subscribers" to community solar projects, whereby they are credited savings on their utility bills that are based on their share of the revenue generated by the project's energy sales.
"This legislation provides the market with much-needed policy certainty for continued growth of community solar in Maryland. It leverages the momentum gained from the pilot program as well as best practices established in other states to result in greater and more equitable access to the environmental and economic benefits of solar power," said Charlie Coggeshall, Mid-Atlantic Regional Director at the Coalition for Community Solar Access (CCSA).
"The passage of HB 908 is a welcome achievement," said Kristen Harbeson, Political Director at the Maryland League of Conservation Voters (MDLCV). "We know from the pilot program's outcomes that small-scale, distributed solar can bring a wealth of local and state-wide economic, environmental, and public health benefits. And we're confident that with this legislation, Maryland will continue to build on its success and drive an accelerated transition toward a more equitable, resilient, and affordable clean energy future, and we applaud the General Assembly for its passage."
The bill eliminates the pilot program's arbitrary cap on community solar in Maryland (≈580 megawatts) and allows it to be a permanent distributed generation option for consumers, alongside net metering. It moves the market away from limits associated with the types of projects that can be developed and instead incentivizes the development of projects on a greater variety of sites, inclusive of commercial rooftops and industrial and brownfield sites, as well as using agrivoltaics on farmland. Underlying all these projects is a new requirement to have at least 40% of capacity dedicated to benefiting low-to-moderate income (LMI) customers. This will ensure that historically disadvantaged Marylanders have equitable access to utility bill savings at a time when inflated energy prices are driving up household energy costs.
"Community solar is an ideal tool for achieving clean energy and equity goals for the state, and this bill expands the program at a unique time where it can leverage the billions of dollars in funds recently made available by the U.S. Inflation Reduction Act," said Senator Brooks. "Most importantly, the LMI subscriber and siting provisions of the bill strengthen the business case for targeting Maryland's overburdened and underserved communities."
# # #